On Day 6 of our preparation we will contemplate how Total Consecration to Jesus through Mary offers both protection from evil, as well as great joy in the midst of suffering, if we are living in union with Christ.



Total Consecration Provides Protection in the
Midst of Nuclear Warfare:
When the atomic bombs were dropped on Hiroshima and Nagasaki, Japan in
1945, everything was destroyed except for one monastery in Hiroshima (that is often written about) and another one in Nagasaki –
How did I not know that two monasteries, filled with monks who lived a life of complete devotion and Total Consecration to Mary were the only places to survive amid such annihilation?!

First of all, in Nagasaki:
Amazingly,
it was the monastery that St. Maximilian founded in Nagasaki, Japan – The
"Garden of the Immaculata" (that we read about on Day 5 of the preparation) – that would be the only place to survive the atomic bomb that was dropped on Nagasaki on August 9, 1945.
For, providentially, and what must have been obedience to instructions received in prayer, St. Maximilian built the "Garden of the Immaculate" in a place that was ill-advised by everyone at the time. However, it was because he chose such a spot, that the brothers and the monastery were shielded from the atomic blast fifteen years later, (as they were on the opposite side of a mountain from the blast).
Secondly, the other monastery of Hiroshima is one that I so often speak and write about. It is one of the great miracles of the rosary:
In contrast and astoundingly, the monastery in Hiroshima was within
a kilometer of ground zero. There was complete and utter devastation for miles except for this one monastery. The eight priests who lived there were not only not harmed by the blast, but they suffered no ill effects from the radiation throughout their lives, which
killed and sickened so many. Thus, they were a constant source of examination. One of the Jesuits, Fr. Schiffer, remarked over 200
times in interviews, "we believe that we survived because we were living the message of
Fatima. We lived and prayed the rosary
daily in that home."
O, the wonders and protection Mary offers, for through her humility she is the one God has chosen to crush Satan's head.
Thus, our devotion to Mary offers a shield of protection from even one of the greatest evils imaginable – nuclear war!
But, sometimes in God's almighty plan, Mary doesn't seem to shield us and we are allowed to suffer, and in the eyes of the world, all seems lost…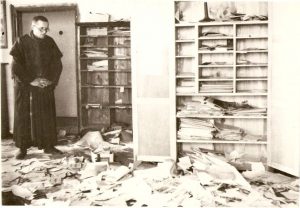 Life in the City of the Immaculate in Poland
"After having initiated the undertaking and seeing it flourish in Japan, his major superiors appointed [Maximilian to be] the superior of the Polish City of the Immaculate whose apostolic potentials had peaked at that moment in time. Upon his return to Poland, with somewhat of a prophetic "instinct," knowing perhaps his end was approaching, he busied himself giving continuous and regular spiritual conferences to the friars, so as to consolidate his spiritual and apostolic legacy.
Such preparation became the spiritual strength of the friars themselves. Shortly afterwards, the Nazis occupied Poland in September, 1939. Father Maximilian and many of the friars were arrested. https://saintmaximiliankolbe.com/biography/
"When first arrested he said:
"Courage, my
sons. Don't you see that we are leaving on a mission? They pay our fare
in the bargain. What a piece of good luck! The thing to do now is to
pray well in order to win as many souls as possible. Let us, then, tell
the Blessed Virgin that we are content, and that she can do with us
anything she wishes" (Maximilian Mary Kolbe, source).
How beautiful! How well Maximilian understood the great joy that comes from doing God's will!
This first imprisonment lasted approximately three months.
"Upon his release from prison on December 8, 1939, the feast day of the Immaculate Conception of his Heavenly Queen, Father Maximilian returned to a ransacked Niepokalanów. The Nazis suppressed his printing and publishing apostolate. Without being disheartened, his zeal remained unabated. Due to the harsh war conditions of the time, Niepokalanów was quickly turned into a refugee center for displaced families, Jews and victims of political unrest [as Kolbe and his community helped "hide, feed and clothe 3,000 Polish refugees, (of which approximately
1,500 were Jews). In 1941, his newspaper "The Knight of the Immaculate"
offered strong criticism of the Nazis." https://www.biographyonline.net/spiritual/maximilian-kolbe.html] While "his solicitude for these war victims had no sectarian boundaries; he
fostered in them the need to forgive their enemies, and to acknowledge
that hatred is destructive and love alone is creative." https://saintmaximiliankolbe.com/biography/

From the Writings of St. Maximilian Kolbe (KW 149):
"You must be prepared for moments of darkness, anguish, uncertainty, fear, sometimes very insistent temptations, and suffering of the body and of the soul—that are a hundred times more severe. In fact, if there were nothing to bear, for what would you go to heaven? Without struggle victory would be impossible and without victory there can be no crown, there can be no reward [cf. 1 Cor 9:25]. Therefore, from now on be prepared for anything. However, we must not be afraid of anything, because we can and we must win. But how? Here is how: by not trusting ourselves in any way and by offering all of ourselves, all the temptations, and our difficulties to the Immaculata, surely we will always be victorious (it is obvious that on our part we have to do what we can not to fall). The Immaculata cannot abandon her children. Satan never sleeps and—with the permission of God—he often will suggest "wise" propositions, he will show you other "pseudo-duties," other "happiness," but he who loves the Immaculata sincerely and wholeheartedly, will easily recognize the enemy and will cast him out. Serving the Immaculata with fidelity, we can give the best service to our family. In fact, is she not able to help our families incomparably better than we can ourselves? Let us entrust to her all of those close to our hearts, and she, the best among mothers, will help them in the best way possible.
This joy and trust in the will of God, stemmed from years of living completely abandoned to Jesus through, with and imitation of Mary. For
"In his desire to attract all men to God's love, Maximilian Kolbe understood that the first fundamental priority of the Church's mission is to imitate the Lord Jesus, the Missionary of the Father par excellence, to do as He did, that is, emptying ourselves in the womb of the same mother, Mary. Therefore Fr. Maximilian, going straight to the essence of things, realized that the strength of the mission consists in belonging totally to Mary, in striving to be like her, to become her (cf. KW508 and 1210), to allow her divine Spouse, the Holy Spirit, the main Protagonist of mission, to continue to bring Christ into the world through us.
…St. Maximilian's missionary manner … was born … from the daily contemplation of Mary, the Woman of the Gospel, this great and humble Woman, who walked the dusty roads of her land carrying God in the heart and singing her Magnificat … this strong Woman who advanced in her pilgrimage of faith (Cf.Lumen Gentium, 58) repeating her fiat to the Will of God in all the seasons of her life, under the Cross… and beyond! Kolbe's missionary approach everywhere [was] to be a reflection of Mary." http://missionimmaculata.com/images/Documents/preparation_for_consecration/Preparation_for_MI_Consecration_Part_6.pdf:

It was in this imitation of Mary, in two ways in particular, that Maximilian and the friars were guided to trust God in all things:
1. In Prayer, for it is only in prayer that we can hear and be attentive to the voice of the Father:
His words about prayer reflect his beliefs, but above all his experience: "Prayer is a means that people do not know about, and yet it is the most effective way to restore peace in the soul, to give them happiness, because it serves to bring them closer to God's love. Prayer revives the world. Prayer is the indispensable condition for the regeneration and the life of every soul. By means of prayer, St. Thérèse de Lisieux, without leaving the walls of her convent, became the patron of all missions and not only the titular patron saint, as experience shows. Let us pray, let us pray well, pray much, both with our lips and in our thought, and we shall experience in ourselves how the Immaculata will take increasing possession of our souls, how our belonging to her will deepen more and more in every respect, how our sins will vanish, and our flaws will weaken, how gently and powerfully we will come ever closer to God… To the extent in which we burn more and more with divine love, we will kindle a similar love even in others."(KW903).http://missionimmaculata.com/images/Documents/preparation_for_consecration/Preparation_for_MI_Consecration_Part_6.pdf
2. In holy obedience, for after hearing the voice of the Lord, we must act upon it:
Here is what he wrote in 1931… to the seminarians of Niepokalanów: "You yourself will experience in your lives, even on this earth, that all of the perfection of holiness, all the fervor of action, all the usefulness of the missionary ministry consists not in great wisdom, nor in great intelligence, nor in great skills or even in the amount of prayers and penitence, but solely in the perfection of Holy Obedience. Why is this? Because through Holy Obedience the certain will of God, the will of the Immaculata manifest themselves; through Holy Obedience we truly become an instrument in her hands…."(KW 380). http://missionimmaculata.com/images/Documents/preparation_for_consecration/Preparation_for_MI_Consecration_Part_6.pdf
It is when we become accustomed to listening to the Voice of God and living in obedience to His Will, like Jesus and Mary, that we draw ever deeper into union. A union that seeks only the Will of God, no matter the human cost:


From the Writings of St. Maximilian Kolbe (KW 987C and 1080)
Truly supreme and incomparable joy is infused by the Holy Spirit, when one suffers for love of Christ. [The purpose of the MI] is to make humanity happy, by instilling into each soul—which thirsts and craves for happiness every moment of its life—the love of the one who can and wants to introduce peace and joy into each heart, during this earthly exile, in the midst of the confusion that surrounds us, of the concerns and headaches that beset us everywhere, of the pain that reaches the very depths of our hearts. Those who truly love the Immaculata and flee to her with filial love and affection at times of temptation and hardship in life, will surely take down all the obstacles on the road to happiness, and foretaste the joys of heaven. Those who in their lifetime have worked with zeal to expand the reign of the Immaculata will be happy at death.


In this preparation, then, may we strive also to live completely abandoned to God
– like Jesus, who first abandoned Himself to Mary.
And in imitation of Mary
– by continually giving our Fiat to God, and saying only and always, whether in times of great suffering or in great joy:
"Let it be done unto me according to your will"
in order to "expand the reign of the Immaculata" in our hearts and the hearts of all her children.
For it is living a life of prayer in this way,
that we come to know joy even when all our human efforts are destroyed and our very lives are stripped from us…
For the one who loves Jesus and Mary
and is truly living in union with them
is at peace and can never be really harmed or dismayed.
For in all of these sufferings we realize it is in dying that we are born to eternal life!

So let us pray:
Come Holy
Spirit, living in Mary, help us to prepare well for our Total Consecration.
St. Maximilian,
Be with us and help us to become the love of Mary and Jesus and to pray deeply and listen attentively to the voice of God
so to give
ourselves entirely and without reserve to both of them in complete
surrender.
So that Mary, in turn, can draw us ever closer to Jesus
and make of us great saints!
Pray for us and help us to love even to the point of suffering in order to win all souls for Christ through Mary and the Miraculous Medal and the most Holy Rosary!
We ask this in Jesus's Name, Amen.
Lastly, may
we never forget to recognize that the prayer Mary taught us, that wearing the miraculous medal and the Most Holy Rosary are true gifts of heaven.
May we utilize them daily to help us become a garden of Mary's and Jesus's love even in the midst of great evil and destruction:
O Mary, conceived without sin, pray for us who have recourse to you,
and for all those who do not have recourse to you, especially the
enemies of Holy Church and all those recommended to you.


© Janet Moore 2019. All Rights Reserved.